Looper Tube / Ring Top [Price for 10]
DESCRIPTION
Looper & Ringtop Tubes
These looper tubes feature a large handle for effortless handling and a specially designed knob that allows caution tape to securely wrap around them. They remain a great way to block off or enclose an area.
Safety is paramount, and that's why our ringtop tubes come with support rings around the reflective bands, providing added protection for the caution tape. Crafted from high-impact polyethylene with a UV stabilizer, these tubes guarantee long-lasting durability and protection against the elements.
Please note that the base shape may differ from the picture. 8lb and 10lb bases are square, the others are octagon.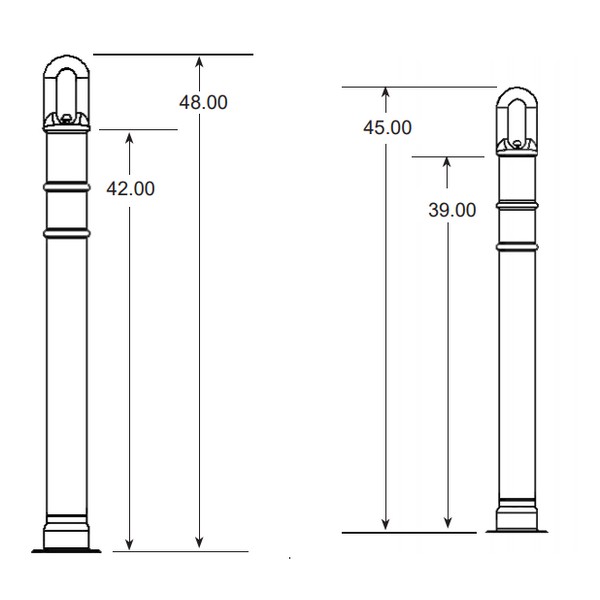 Looper Tube Features:
Large handle makes the tube easy to handle.
Knob designed so caution tape can wrap around.
Bolt hole is made specifically for barricade lights Note: 4" bolt is required for mounting. 95% of all lights come with 3 1/2" bolts.
For added tape protection, there are support rings around the reflective bands.
Delineators have UV stabilizer (polymer protecting)
Tubes are made of high impact polyethylene
Looper & Ringtop Tube Specifications
Base Color:
Black
Base Dimensions:
16" Octagonal, 1.75" , 1.65" & 1.375" height
Base Material:
100% Post-Consumer recycled rubber
Base Weight:
8, 10, 12, 15, and 18 pounds
Colors:
Fluorescent Orange (White, Yellow etc + $1.00, min order 250)
Height of Sheeting Above Roadway:
37.50" & 40.75"
Overall Height:
44.75 and 48.50"
Post Diameter (round):
4.00"
Post Material:
HDPE with polymer protection UV stabilizer
Post Sheeting:
Two 3" or 4" Bands in EG, HI or DG (see above)
Recycled Content:
90% overall
Looper Tube Frequently Asked Questions
What exactly are 'Bands'?
Bands are strips of reflective tape that make the Ringtops easier to see, especially when light is shined on them, as the light reflects back. There are different grades of reflectivity; Engineer Grade is the least reflective but works for most applications, Hi-Intensity is a level up in reflectivity and Diamond Grade is the most reflective.
Why is this called a Looper Tube / Ring Top?
Looper Tube and Ring Top are two brand names for the same type of product, a delineator with a loop at the top for either grabbing or 'looping' rope or chain through.
What colors are looper tubes?
For the post color, fluorescent orange or white are the standard colors. Please call us if you require yellow, black, blue, red or lime green.
Can Ringtop/Looper Tubes stand up on their own?
No, without a base, a slight gust of wind will cause them to tip over without a base.
What bases will work for areas with medium to high wind speeds?
For 20-30 mph winds you should use the 18lb base, if you have higher wind speeds please call and we will find out a solution for you.
I need these right away, how soon can they ship?
Lead time varies because it depends on what is in line for production at the moment and the quantity and type of looper tube you are ordering. Please call about lead times.
How much is shipping?
Shipping depends on your zip code and the delineator/base options you choose along with the quantity you need, add your items to the cart and you can estimate shipping on the shopping cart page.
Order Looper Tubes Today from Transportation Supply
Trans Supply has earned its reputation for the quality of the products we offer and our willingness to work with our customers. In addition to looper and ring top tubes, we also offer other road safety products, such as traffic barriers and traffic cones.
FREQUENTLY ASKED QUESTIONS