Road & Traffic Barricades
Looking for traffic barricades or crowd control barricades for your road project? Trans Supply has a large variety of road barricades to choose from for any event or project. Whether your project calls for plywood or Jersey-style barricades, we have the road and event barricades you need. Shop our online store to see all of our road barricades and traffic barricades for sale. We also carry other traffic safety products, such as barricade lights, safety cones, and other traffic control supplies. If you don't see the road barricades you need, call us and our team will help locate the barricades you need for your project. Contact us today to find out how we can meet your needs.
Traffic Control Barricades
Trans Supply provides a large variety of plastic and wooden traffic barricades. Whether you need barricades to indicate a road closure or for crowd control, we have them in stock.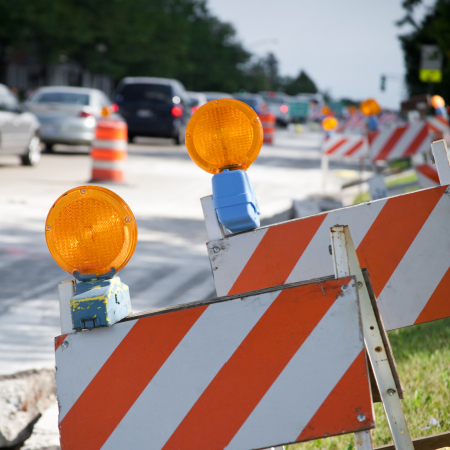 Road Barricades
Road barricades are typically used for funneling traffic, or permanent road closures. We have both wooden and plastic barricades for sale in a variety of widths, so you can get the right barricades for your application.
We can also build custom products to meet your exact specifications. Most of our barricades use steel legs, but you can also request traffic barricades that come with sand-fillable legs. These are used to stand up to all types of weather conditions, including high winds.
Our selection of safety supplies also contains other products to complement your construction project, including traffic safety signs and safety flags.
Jersey Style Traffic Barricades
We offer Jersey-style barricades in several different sizes. These are perfect for directing traffic or blocking off access to a building or construction area. Our patented U-connector provides a well-fastened connection for your barricade line that cannot be matched by any other barricade manufacturer.
Trans Supply offers traffic barricades for sale at some of the lowest prices in the industry, which makes it very economical to order from us. If you have questions about various options or you want a shipping quote for any of these styles, call Trans Supply today. We will be happy to help you choose the best barricades for you.
If you need your product shipped internationally, learn more from our blog.