Safety Flags
Keep your crew safe with safety flags from Trans Supply. Whether you're looking for high-visibility traffic safety flags or construction safety flags, you'll find a variety of sizes to suit your needs. We also offer traffic cones to help get the job done safely and efficiently. If you don't see a traffic or construction safety flag that's right for your application, we can make custom safety flags to meet your specific requirements.
Safety Flags From Transportation Supply
Safety flags are often overlooked but are critical elements in the toolkit of traffic and construction safety. These brightly colored, high-visibility traffic control tools serve as immediate visual cues for drivers and pedestrians, enhancing safety in various environments. At Trans Supply, we offer an extensive range of safety flags, including vehicle safety flags, traffic safety flags, and construction safety flags, designed to meet your diverse needs.
At Trans Supply, we understand your need for dependable traffic safety equipment and are proud to provide you with safety flags and traffic markers that are built to last. Browse our inventory of safety flags today.
Safety Flag Applications
Safety flags serve as a multi-purpose solution in a variety of settings, enhancing visibility and signaling precautions where needed. Whether it's guiding massive construction machinery, delineating road work zones, or safeguarding school children crossing the street, these flags offer a simple yet effective means of communicating vital safety information. Below, we detail some of the specific scenarios where safety flags prove indispensable.
Construction Sites: Safety flags are indispensable on construction sites where they mark boundaries and signal hazardous areas to both workers and the public.
Vehicle Safety: Safety flags for vehicles are used on oversized vehicles or loads that extend beyond regular dimensions. These flags alert other drivers of the unusual size, encouraging caution.
Road Work: State governments use safety flags to indicate road work ahead, allowing drivers to reduce speed and proceed carefully.
Schools: During school hours or events, these flags are used to signal school zones, thereby ensuring the safety of students and staff.
Event Spaces: For events that attract large crowds, safety flags guide attendees and manage crowd movement, contributing to an organized and secure environment.
Why Choose Trans Supply for Safety Flags?
Trans Supply is your trusted source for high-quality, competitively priced safety flags that deliver on reliability and durability. Here's why you should make us your go-to traffic safety supply company:
Wide Selection: Our relationship with manufacturers nationwide allows us to offer an extensive range of safety flags suitable for various applications.
Quality and Reliability: We have a proven track record of delivering products that are both durable and reliable, meeting the stringent requirements of our diverse clientele which includes construction companies, state governments, and event organizers.
Competitive Pricing: Thanks to our extensive industry connections, we offer some of the best pricing options available, ensuring you get value for your investment.
Timely Shipping: We ship to locations throughout the U.S. and Canada, ensuring that you get your safety flags when you need them.
Customer Focus: We continually strive to improve by listening to our customers and taking action based on your feedback.
Frequently Asked Questions About Safety Flags
We understand that you may have some questions about safety flags. That's why we have answered a few of the most common questions we hear from our customers.
How Can Safety Flags Be Used in Construction Zones?
Construction safety flags are invaluable for demarcating hazardous areas, signaling to machinery operators, and warning pedestrians or drivers entering a construction site. They can be placed around the site's perimeter or used by workers to guide traffic, increasing overall safety.
What Are the Benefits of Using Vehicle Safety Flags?
Vehicle safety flags are crucial when you're transporting oversized loads or operating large vehicles. They alert other road users to your vehicle's size and presence, reducing the risk of accidents. These flags are designed to withstand high speeds and various weather conditions, making them a durable and reliable choice for road safety.
Can I Use Traffic Safety Flags for Road Work Commissioned by State Governments?
Absolutely. Traffic safety flags are often used by state governments to signal road work or temporary detours. They're an effective and cost-efficient way to alert drivers and pedestrians to changes in road conditions, ensuring public safety.
Discover the Difference Our Safety Flags Can Make
Don't leave safety to chance. Equip yourself with high-quality safety flags from Trans Supply to ensure a secure and well-marked environment, be it a construction site, a busy highway, or a school zone. With our commitment to quality, competitive pricing, and a wide selection of safety flags for various applications, we make it easy for you to prioritize safety without compromise. Order today and experience the difference that dependable, durable safety flags can make in your project or daily operations.
Related Articles: Safety Flags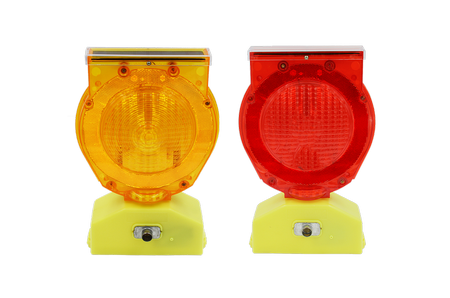 Mounting Barricade Lights
Most traffic control products are designed to accept barricade lights. From Ringtop Delineators, A Frame Barricades to ...