Posts Tagged 'parade barricades'
Thursday, August 13, 2015
By:
admin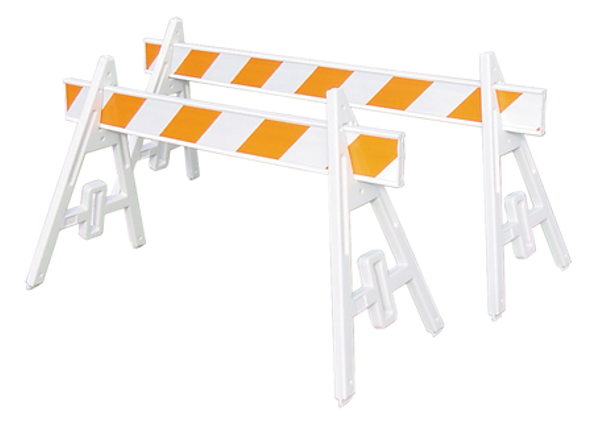 Here we talk about three different types of delineation devices.  Delineation is basically the act of separating traffic or keeping traffic away from a certain area.  This can be important in toll booth lanes, parking lots, college campuses where you have foot traffic and pedestrian traffic and in a lot of other scenarios.
Parade Barricades are great for blocking off road ways and separating motorists from events like parades, food festivals and more.  They have a 'friendly' look than a typical orange traffic control device.  They also are longer and will cover a greater distance for each unit.
Ringtop Delineators are good for when you are separating traffic in parking lots, warning pedestrian of construction zones and alerting people that a working area is coming up.  These are very affordable, and portable.  The ring on top makes putting caution tape or plastic chain link fence through easy.
Vertical Panels…
Thursday, April 25, 2013
By:
admin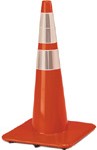 Crazy night out on the town and you see a traffic cone, what's going to happen?  Many people will take the cone and run with it on their head for a while, some may even decide  it would be a great addition to their dorm room or apartment.  But not so fast, stealing a traffic cone is actually grounds for a FELONY.
How many cops are going to give you a felony for stealing a traffic cone?  Most likely a very small majority, but just be smart out there.  You give them too much of a hard time and you never know what could happen.  This goes for all traffic safety supplies you see on the road like barricade lights and parade barricades.  Think twice before you grab them!
Friday, December 14, 2012
By:
admin
They can be called parade barricades, a-frame barricades type 1 or type 2 barricades or a bunch of other things.  Basically these are barricades used for crowd control or to block off certain areas in a parking field, parking lot etc.  Two legs with one or two boards ranging from 4′ long to 12′ long (or even longer if you have a custom built one).
The legs and boards also have options.  For example, if you want orange/white reflective sheeting, you can have it on one side, two sides and it can range from Engineer Grade to Diamond Grade.  The boards can be either 1″ thick or 1.75″ thick and the legs can be sand fill-able to add extra weight for sturdiness.  If you have any question about parade barricades please feel free to leave a comment below.