43 X 72 Sentry Cable Barrier [Price for 4]
DESCRIPTION
Benefits of The Sentry Cable Barrier
Sentry Water-Cable Barrier allows for the creation of a free-standing continuous longitudinal water-cable barrier. Each Sentry wall section has four integrally molded corrosion-resistant steel cables and eight (8) bushings connecting the barrier sections to prevent vehicle breaching. Weighing 2,000 lbs (907 kg) when filled, the Sentry Water-Cable Barrier softly absorbs the energy of the impacting vehicle progressively using water, and the steel cables to capture the vehicle without redirection, avoiding a secondary incident.
Four integrally molded corrosion-resistant steel cables prevent the impacting vehicle from breaching the Sentry Water-Cable Barrier
Stacking lugs on the top and bottom of the Sentry makes storage and transport easy
8 inch (20.32 cm) diameter fill hole allows for quick filling
Tested and accepted for all TL-2 & TL-3 lightweight 1,807 lbs (820 kg) and heavy 4,409 lbs (2,000 kg) vehicle impacts at 45 mph (70 kph) and 62.5 mph (100 kph)
Forklift through holes and pallet jack slots make movement and placement quick and easy
Interlocking knuckle design allows for a positive connection between sentry barriers while maintaining up to a 15 degree rotation between sections
Tamper resistant drain plug with course buttress thread, screws in or out in only 1.5 turns
Standard colors are orange/red or white - additional colors available upon request (typically bulk quantities needed for custom colors)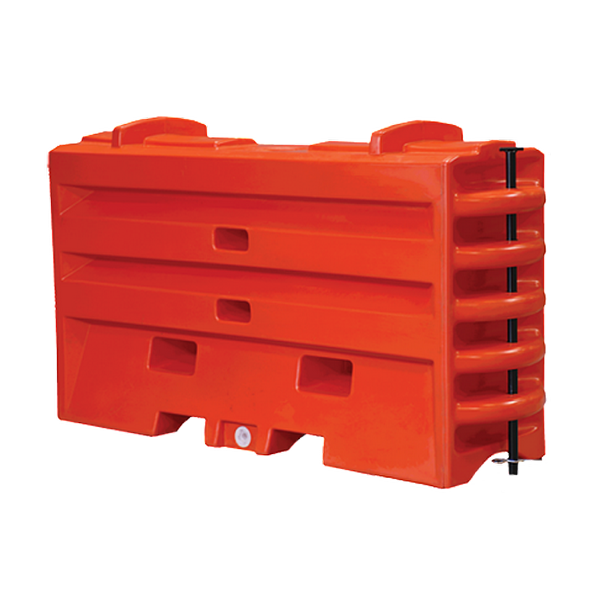 43" x 72" Sentry Cable Barrier Specifications
Barriers are made of polyethylene plastic. These units are approved for NCHRP-350 TL-1, TL-2, and TL-3. Please contact us if you require approval letters.
Empty Weight: 160 lbs. (73 kg)
Filled Weight: 2,000 lbs (907 kg) at 220 gallons of water.
Size: 43" Tall, 72" Long, and 22" Deep.
Deflection Values: TL-2 45 mph, TL-3 62.5 mph
Colors: Orange, red and white. Custom colors available upon bulk request.
Structure: 4 internal steel cables connect barrier to barrier
Certifications

NCHRP-350 Approved
Certified for TL-1, TL-2, TL-3 (except in CA, not TL-3 approved yet)
The sentry cable water barrier stops errant vehicles from entering work zones without redirecting the vehicle into traffic. This NCHRP 350 TL-3 (though not yet certified at TL3 in California) certified work zone crash barrier that can be used as an alternative to cumbersome concrete barriers in a construction work zone. Sentry can do any job, without the addition of external steel or extra parts, where a water barrier is specified.
FREQUENTLY ASKED QUESTIONS