Airport Windsocks & Flags
Airport flags are essential equipment for today's runway technicians. At Transportation Supply, you can find airport flags used for directing traffic around construction and an airport flag that warns pilots and others of barricades and obstacles. Additionally, we carry airport windsocks that provide crucial information to controllers and pilots on wind speed and direction.
Bulk Airfield Flags and Windsocks
If you are looking for flags and windsocks for use in an airport environment or airfield, Trans Supply has what you need. We offer bulk high-quality and highly visible airport flags and windsocks, mounting hardware, as well as competitive pricing on all our products.
For runway closures, you can find closure markers and lighted closure signs to keep pilots safe and direct them away from runways under construction. Get airport windsocks and flags online at Transportation Supply.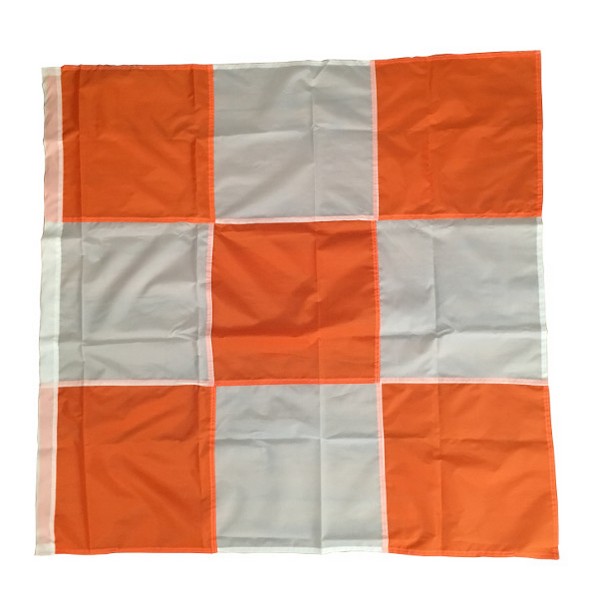 Benefits of Airport Flags
Airport windsocks and flags are fundamental to everyday safety and training.
Wind Direction Indication: Airport windsocks and flags provide crucial information about the direction and intensity of wind at an airport, helping pilots and air traffic controllers make informed decisions for takeoffs, landings, and taxiing.
Safety Enhancement: These visual aids contribute to aviation safety by alerting pilots to changing wind patterns and gusty conditions, allowing them to adjust their approach and flight operations accordingly.
Runway Selection: Airport windsocks and flags assist in determining the most suitable runway for takeoff and landing, optimizing flight operations and minimizing the risk of crosswinds that can be hazardous to aircraft.
Pilot Training: These wind indicators are essential for training purposes, helping student pilots learn how to navigate and manage aircraft in various wind conditions, ultimately improving their skills and confidence.
Emergency Response: During emergencies, such as wildfires or medical evacuations, airport windsocks and flags help guide incoming and departing aircraft safely, ensuring efficient and timely responses to critical situations.
Custom Orders On Airport Windsocks and Flags
Trans Supply is your source for airport safety equipment and supplies. If you do not find what you are looking for here, give us a call to describe what you have in mind. We will go to work with our suppliers to find what you need and ship it out to you in as little time as possible.
At Trans Supply, we are known for our excellent service and our commitment to our customers. Let us help you get the airport supplies that meet your needs and FAA requirements, no matter what it is.
Airport Windsock & Flag FAQ
What do the colors of airport windsocks mean?
The contrasting colors of red/white, orange/white tend to make windsocks more visible against grass, trees and pavement. The sock stripes are calibrated for wind speed. A fully extended windsock, like the ones you see at non-towered airports, usually suggest a wind speed of 15 knots or greater.
What do orange and white checkered flags mean?
These are airport safety flags designated for airport construction sites. They can be used for taxiways and standard airport equipment like crane booms.
Is there a bulk order limit on airport safety flags?
No, please reach out to us for special requests. We can also give you an accurate shipping estimate on your custom order.
Easily Order Airport Windsocks & Flags
Browse through our selection of airport safety flags and windsocks. Easily checkout using our ordering system and get in touch with us if you require shipping estimates or bulk pricing.