42 x 72 Guardsafe Barrier [Price for 5]
DESCRIPTION
Click Here To Download Spec Sheet
Connect Water Fillable 42" x 72" Guardsafe Barriers
Guardsafe 42 x 72 barriers are approved for use in NCHRP TL-2, 45 mph work zones by the Federal Highway Administration (FHWA) when water ballasted and with a TL-2 kit (sold separately). This Guardsafe barrier is a portable, water or sand ballasted, rugged and energy absorbing product good for both channeling traffic and work zone protection. In addition, this barrier is used for gate security checkpoints, military applications, airports, parking lots, fires, bridge abutments, etc.
42" x 72" Traffic & Crowd Control Barrier
Manually and easily position these units to dictate the flow of traffic. In a constantly changing work area, quick deployment and pick up is a great advantage, and these are designed with both a recessed handle and lightweight frame. Made of a UV resistance material - don't worry about UV rays hurting the life of the unit. This not only increases the life of the unit but helps to reduce the total cost of each piece.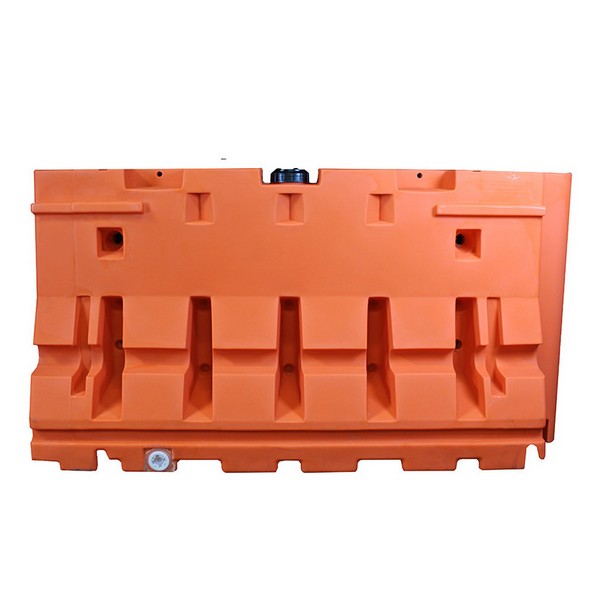 Benefits of The Guardsafe 42" x 72" Barrier
In order to meet all areas of the market, these can come in 100, 130 or 170 lbs empty. These barriers used to be made with (2) drain plugs on each. Now they just have (1) drain plug. Transportation Supply stocks multiple colors including orange, yellow, & off-white (Natural). Please call about custom colors.
Ease of movement, lightweight
Multiple Uses
One Drain Plug
Handles Molded In
3 Stocked Colors to Choose From
Material Designed for Long Life
Can Turn 15 Degrees
Areas of Use
Retail
Local Towns/Cities
Construction Zones
Airports (Construction)
Government Establishments
Military Zones
Applications
Traffic Channelizer
Crowd Delineation
Security Checkpoints
Frequently Asked Questions
Can a barricade light be mounted to this?
Yes, there are two pockets at the top of the barrier where a barricade light can be mounted on to the Guardsafe barrier.
Does Trans Supply deal with Used Units?
Our suppliers usually have used units on hand, let us know what you need and we will pass on a discount based on their condition!
What are the shipping dimensions of this barrier?
Shipping class 150, loose loaded on a truck (meaning no pallets), each unit weighs 100/130/170 lbs.
How much will I be spending on shipping?
Examples of freight rates here are from past purchases. Freight costs depend on how many units you buy and how far away you are from the supplier (located in Reading, PA zip 19602). Shipping can be expensive, so we try to offer the lowest unit prices in the industry. Also, we have Jersey Style barricades in Utah, Indiana, and California so those may be a better option for you depending on your location.
FREQUENTLY ASKED QUESTIONS