Traffic Barriers from Pennsylvania – How to Estimate Shipping
Wednesday, August 21, 2013
By:
admin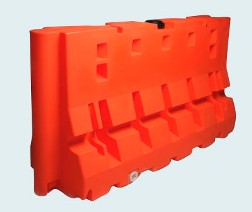 This other version of Jersey Barrier comes from PA.  This is a good option if you are on the East Coast or around PA as shipping can be a killer if you are too far away from the warehouse.  We have them in 100lbs, 130lbs and 170lbs.  Check them out here.
Some water is still going to be in the barrier (as they water test them) and it usually adds 3lbs.  So if a barrier is 100lbs use 103lbs when calculating the weight of your shipment.  Also this supplier doesn't ship on pallets, so no need to calculate the weight of the pallet.
We don't have a lot of info on this particular barrier because we haven't sold a lot of them yet, but we do have shipping rates for East Coast shipments.  I will be sure to update this post as new quotes come in.
East Coast
400lbs for $318 to NY = 80 cents a pound
1330lbs for $662 to MD = 50 cents a pound
618lbs for $271 to PA = 44 cents a pound
2781lbs for $718 to NY = 26 cents a pound
West Coast
no data yet on this one.  Will update.
South
1236lbs for $940 to TX = 76 cents a pound
45320lbs for $12,750 to FL = 28 cents a pound
Midwest
no data yet on this one.  Will update.
Need help calculating your shipping still?  Or need an exact quote?  Give me a call (413) 281-6393.