Road Barriers
Road barriers from Trans Supply keep drivers and workers safe. As part of our commitment to safety, our road barriers are designed to meet the highest standards of quality, durability and effectiveness. Whether you need to redirect traffic, protect construction zones or prevent vehicles from crossing into opposing lanes, we have road barriers for almost all applications. Trust Trans Supply for all your road barrier needs.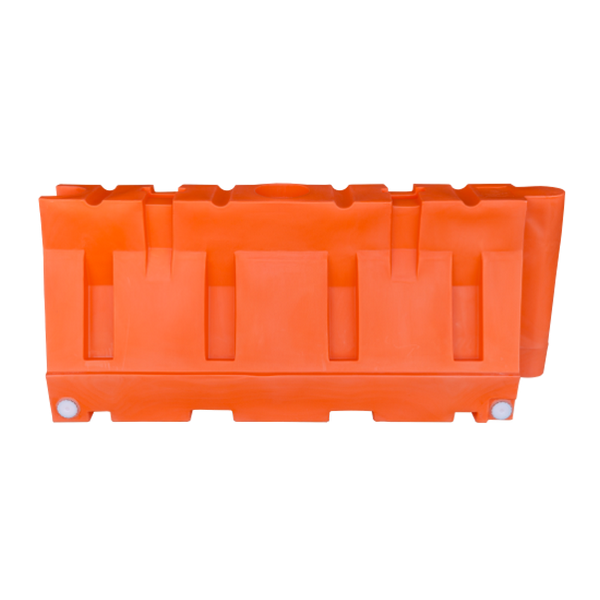 Road Barriers You Can Count On
Road barriers are an essential component of transportation infrastructure, providing a means of separating and protecting motorists, pedestrians and cyclists from hazards and other vehicles. In addition to their safety benefits, road barriers can also be used to improve traffic flow and manage congestion. For example, by using barriers to create dedicated lanes for buses and other high-occupancy vehicles, traffic can be separated, allowing for faster and more efficient travel.
Trans Supply offers a variety of durable road barriers made from high-quality materials you can count on.
Road Barriers for Every Situation
There are many types of road barriers available from Transportation Supply, including:
Parking lot barriers
Channelizing barriers (visual traffic channelizing)
Water-filled barriers
Plastic barriers
And more
Each type of road barrier has its own strengths and weaknesses and is suited to different applications.
We also offer traffic barriers and traffic barriers with fences which are great for creating road barriers around construction sites.
Find the Right Road Barriers at Trans Supply
If you have questions or need assistance choosing the right road barriers for your project, contact Trans Supply today. Our team of experts is always available to discuss options with you and help you get started.
If you don't see what you're looking for, just let us know and we can work with our road barrier suppliers to find the perfect road barriers for you at the best price.
How Are Road Barriers Installed?
The installation of road barriers varies depending on the type of barrier and the application. Generally, a plastic road barrier is connected shoulder to shoulder by connection pins or male-female end pieces.
What Are Some Common Applications for Road Barriers?
Road barriers are used in a variety of applications, including traffic management, construction sites, crowd control, event management and security. Most road barriers are not able to contain a vehicles impact unless they have very high certifications, so be sure you have the properly rated barrier for your project. There are TL-1, TL-2 and TL-3 speed ratings. And remember barricades are not the same as road barriers. A TL-1 barricade does not meet the same standards as a TL-1 barrier. If your project requires a TL-3 road barrier, like all the other ratings, we have you covered.
Shop Road Barriers Today
Trans Supply is dedicated to being the top road barrier supplier in the country. We are known for the quality of our service and our willingness to work with customers. Browse our selection of road barriers for sale to find more detailed information about each one and make a purchase.
Related Articles: Road Barriers