Jersey Barriers
Protect your construction workers, motorists and pedestrians with durable and reliable plastic Jersey barriers (always check crash ratings) from Transportation Supply. Choose from a wide range of Jersey barriers to fit your site's needs.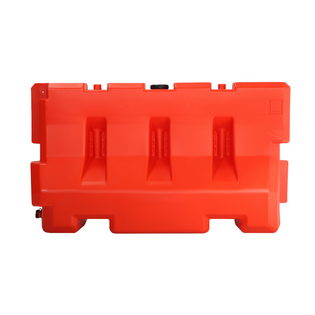 Jersey Barriers You Can Trust
When it comes to traffic safety, nothing beats the durability and reliability of Jersey barriers from Transportation Supply.
Our Jersey barriers are constructed from durable plastic that allows the barriers to be filled with water. This ensures long-lasting visual delineation for motorists, pedestrians, and construction workers alike. Always double check crash ratings before you purchase a barrier. Some are designed more for parking lots and low speed zones, while others have higher crash ratings and can be used on the highway.
Wide Range of Jersey Barriers for Every Situation
We offer a wide range of Jersey barriers to fit your specific needs. Whether you need a Jersey barrier for a short-term event or a long-term construction project, we have the right solution for you.
We have a range of plastic barriers that are lightweight and easy to transport. Plus, our barriers come in a variety of colors.
We also offer a variety of traffic barriers and barricades to meet your safety needs.
Find the Right Jersey Barriers at Trans Supply
When you choose Transportation Supply for your Jersey barrier needs, you're choosing a trustworthy and cost-effective solution. Our team of experts will work with you to find the best barrier solution for your project and budget, and we offer competitive pricing for bulk orders.
Plus, our barriers are designed for easy transport and installation, saving you time and labor costs. With their durability and longevity, you can trust that your investment in Jersey barriers from Transportation Supply will pay off in the long run.
If you have questions about or need assistance with our Jersey barriers for sale, contact Trans Supply today. Our team of experts is always available to discuss options with you and help you get started.
What Are the Most Common Jersey Barrier Dimensions?
The most common Jersey barrier dimensions are 10 feet in length, 32 inches in height, and 24 inches in width. However, Transportation Supply offers a variety of plastic Jersey barrier sizes to fit your specific needs and requirements, ranging from 5 feet to 6 feet in length, and from 24 inches to 42 inches in height.
What Jersey Barrier Prices Should We Expect to Pay?
Jersey barrier prices can vary depending on a range of factors, such as:
Type of material (concrete or plastic)
Size and weight of the barrier
Customization options
Quantity ordered
Generally speaking, prices for concrete Jersey barriers can range from $500 to $600 per barrier, while plastic Jersey barriers can cost between $300 to $400 per barrier. However, at Transportation Supply, we offer competitive pricing and discounts for bulk orders, so please contact us to get a personalized quote for your specific needs.
Shop Trans Supply for Jersey Barriers Today
If you're looking for durable and reliable Jersey barriers for sale, you can count on Transportation Supply! We offer a wide selection plastic Jersey barriers to fit your traffic safety needs. Contact us today for pricing and availability.
Related Articles: Jersey Barriers