Type 1 & Type 2 Traffic Barricades
Whether you need top sheeting only or top and bottom sheeting on a barricade unit, Trans Supply has you covered. Choose Type 1 barricades (also written as Type I barricade) and Type 2 barricades (or Type II barricades) in either plywood or plastic, including collapsible plastic barricades, which take up significantly less truck space. One style of Type 1 barricade is the A-frame parade barricade, which comes in various lengths, some available with different barricade board thicknesses. Funnel traffic with high-quality barricades at affordable prices. See our selection now to find the Type I barricades and Type II barricades you need.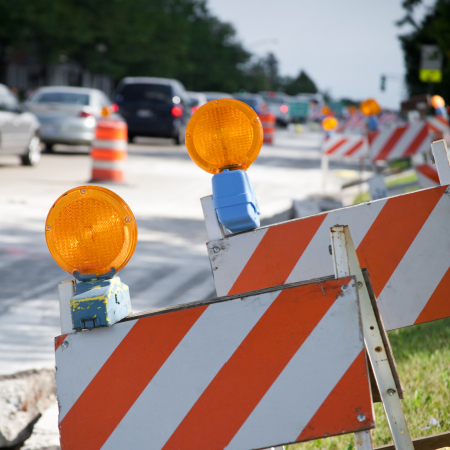 Durable Type I & Type II Barricades for Different Applications
Whether you need a Type 1 barricade, Type 2 barricade or parade line barricade, Transportation Supply has the inventory you need to get the job done. Our plastic barricades are made from high-strength materials that reduce the need for replacement in the future. Each one is hollow molded and can be filled with sand to make them even more secure. Easy-grip handles make our Type I and Type II barricades easy to transport and distribute. The all-plastic construction keeps them corrosion-free forever.
Wood and Steel Type 1 and Type 2 Barricades Available
For more traditionally-constructed barricades, we carry Type I barricades made with plywood and galvanized steel. Each one comes with different grades of reflectivity to keep your workers safe. We also carry Type II barricades in the same style. Both measure up to 45" in height. Available in either 24" or 36" width, our Type I and Type II wood and metal barricades can have steel legs in 14-gauge or 12-gauge thickness.
What Are Type I and Type II Barricades?
While the differences might not be noticeable at first, Type I barricades and Type II barricades (or Type 1 and Type 2) barricades have some differences between them that will make them ideal for your application. When it comes to traffic safety, it is important to know which plastic barricades will work best to keep drivers and road crews safe.
Type 1 Barricade
Type I barricades are A-frame barricades that have reflective sheeting on the top panel only. The reflective sheeting alerts others of construction or road work. A Type I barricade is most commonly used to cordon off areas for public works projects or to redirect traffic around construction areas.
Type 2 Barricade
A Type II barricade is very similar to a Type I barricade. Both are A-frame style barricades with reflective sheeting. However, Type 2 traffic barricades have sheeting on the top and bottom panels. This makes the Type II barricade more visible, making it ideal for highways and other construction sites where danger is heightened.
Shop for Type 1 & Type 2 Barricades and More at Transportation Supply
Transportation Supply has Type 1 barricades, Type 2 barricades and so much more to keep crews safe and on the job. If you need to direct road traffic, foot traffic or even runway traffic, Transportation Supply has all of the wood, steel, and plastic barricades you could ask for. Shop for traffic cones, warning lights, and more at Transportation Supply today.