Type III Barricades
From Trans Supply's large inventory of Type 3 barricades (also written as Type III barricades), find the one you need in sizes from 48" to 144". No matter the Type 3 barricade dimensions you require, all come with the parts required for assembly. Get the job done easily and affordably with Type 3 traffic barricades. We also carry other traffic barricades, including Type 1 & 2 barricades, pedestrian barricades, and more. For permanent road closures calling for any kind of Type 3 barricade, get a quote from Trans Supply today.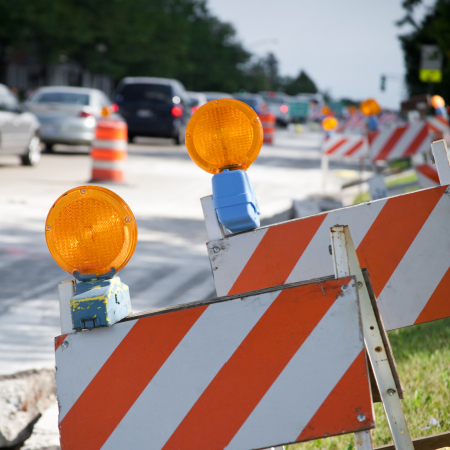 Our Selection of Type 3 Barricades
Here at Trans Supply we have a large selection of Type 3 barricades. We have Type 3 barricades made from wood and plastic, as well as various parts for barricades. The sizes of the Type III barricades range from 48" to 144", so you should have no problem finding one that suits your needs.
When it comes to shipping cost and price, a Type 3 barricade made of plastic is cheaper per unit and less expensive to ship because it weighs less. Of course, there is nothing wrong with wood barricades, but we suggest plastic barricades if you are looking for the most economical option.
We also have three different options when it comes to reflective sheeting for our Type III barricades. We have Engineer Grade (EG), HI Intensity (HI), and Diamond Grade (DG). The higher the grade the more reflectivity the traffic barricade will have. All of the Type 3 barricades come with feet and all the parts to assemble them out of the box. Browse our traffic barriers and portable barricades if you're looking for more barricade options.
Contact us and we will accommodate you for large quantities, so if you have orders of 50 or more we will help reduce the cost of each unit. We understand that these can add up when you purchase a lot of them, and we are here to help.