New Product: AR3 Mini Airport Barricade
Friday, September 13, 2013
By:
admin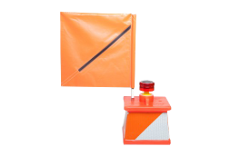 Check out our new airport barricade below:
https://www.trans-supply.com/p-544-plastic-airport-barricade-12x12x12.aspx
This 12″ x 12″ x 12″ airport barricade is designed specifically for GA (general aviation) airports.  Just like the other barricades it has reflective sheeting and can hold a light and a flag.  However the price is about half that of a traditional barricade.
Although GA airports do not have to follow all FAA guidelines, they still strive to follow the rules the best they can even with a limited budget.  This barricade is a way for these GA airports to remain in FAA compliance but not break the bank.
These are great to use around smaller aircraft.  If you have any questions do not hesitate to contact us through our website which is linked above.